I suggest that each "selling argument" should be 1-3 sentences and have a "selling" ending. It should not be longer than 2 lines for the customer to be able to read. The more lines read by the customer, the greater the sales opportunity.
I suggest the sales pitch be bold. 
I have named all images "CUB" as "cube" is what the customer is looking for and that is what our SEO should consist of.
The word "KUB" should be included in as many Headings and in body text as possible. This gives us a better SEO
We will try to sell the test as often as possible (ie add "book button" often)
Skillnaden mellan KUB & NIPT
KUB står för kombinerat ultraljud och blodprov och är en etablerad screeningmetod i stora delar av världen för att leta efter kromosomavvikelser. Metoden innebär att man gör en riskberäkning med hjälp av moderns ålder, vissa mätvärden på fostret med ultraljud och två markörer i moderns blod som heter beta-hCG och PAPP-A. Som resultat får men skattad risk för de vanligaste kromosomavvikelserna, trisomi 13, 18 och 21. KUB analyserar INTE foster-DNA och har lägre känslighet och specificitet än NIPT. Metoden är också äldre än NIPT. 

NIPT är en modern fosterscreeningmetod som letar efter exakt samma avvikelser som KUB, men analysen görs genom att analysera antalet kopior av de olika kromosomerna i moderns blod. och i tillägg kan man få veta barnets kön redan i vecka 10+0 med 99.5% säkerhet. 
KUB-metoden är inte lika bra på att hitta kromosomavvikelser (lägre sensitivitet) och när ett KUB-test väl har  engivit utslag för en förhöjd risk för en kromosomavvikelse så är informationen felaktig i större utsträckning än om man utför ett NIPT. 
A NIPT is taken through a simple blood test on the mother and is the most modern and safest way to look for chromosomal abnormalities in the fetus.  
INCORRECT RESULTS FOR CUBE
Om man jämför KUB med Vanadis NIPT så ser man en stor skillnad. 
In those mothers who carry a child with a chromosomal abnormality, a CUB test (= traditional screening) will not detect it and give incorrect results in 10-15% of the cases. Hos NIPT är samma siffra mindre än 0.01%.

 

In mothers who receive the answer to a KUB test that they have a child with a chromosomal abnormality, this is not true in about 5%, but the child does not have the chromosomal abnormality that the KUB test stated. Hos NIPT är samma siffra kring 0.3-0.5%. 

 

Falskt positiva resultat på NIPT beror till största delen på att vi analyserar DNA från moderkakan i moderns blod, och det förekommer att man har en trisomi i moderkakan men att fostret är opåverkat och friskt. Därför är rekommendationen, om man vill, att man utreder NIPT-svar med förhöjd risk med fostervattenprov eller moderkaksprov. 


NIPT is answered as low risk or increased risk of chromosomal abnormalities.
If there is an increased risk of chromosomal abnormalities in NIPT or KUB, an invasive test must be performed, ie you insert the placenta or amniotic fluid with a needle to analyze material directly from the pregnancy. The risk of invasive tests is miscarriage at about 0.5-1% of the procedures.
NIPT gör att många färre kvinnor behöver genomgå riskfylld, dyr och onödig provtagning med fostervatten- eller moderkaksprov.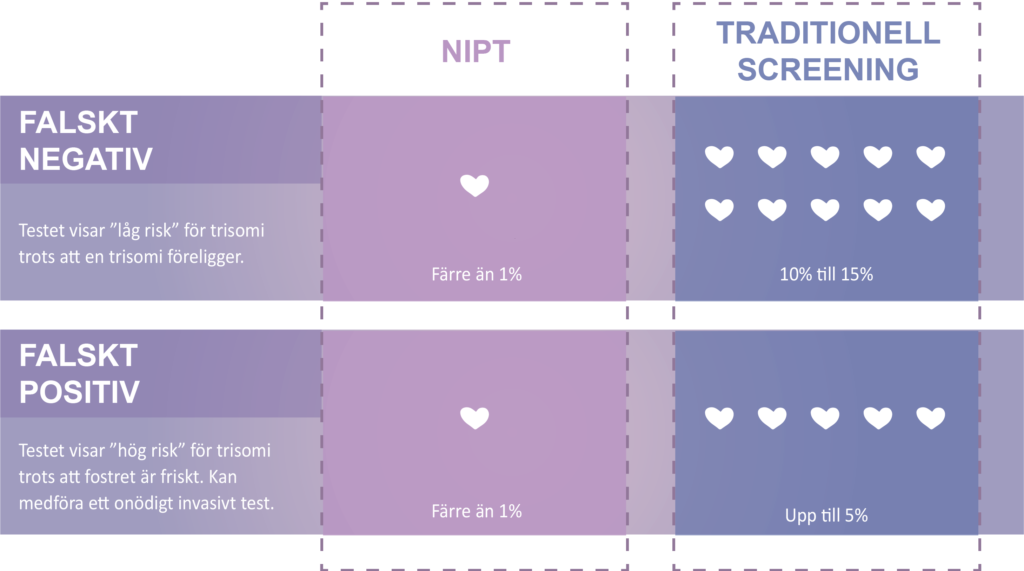 Prisskillnad mellan KUB & NIPT
Vanadi's NIPT is cheaper than other NIPT tests due to modern technology that requires fewer human hands in the analysis. It also means that the method has higher precision - more samples can be analyzed and fewer women need to retest. 
Babyscreen today provides the market's leading price for NIPT despite its high quality.  
KUB är  en äldre metod som är billigare men fördelarna med NIPT är många och KUB är inte en lika säker undersökning. 
Vanadis® NIPT is a state-of-the-art fetal diagnostic method that replaces traditional CUB. Vanadis® NIPT is based on new Swedish technology that makes the process faster, safer and cheaper. Response time 10 working days. We recommend the NIPT test in combination with fetal ultrasound. Then you can see that the pregnancy is progressing as it should. Ultrasound and NIPT are offered as a combination service. The ultrasound is usually done through the stomach. If you want an ultrasound at another healthcare provider but still want to buy our NIPT, you can choose between booking a NIPT test via our sampling locations or ordering a NIPT test kit at home.